I tend to get stuck in a breakfast rut. Can you relate? Growing up, breakfast was usually a bagel (broiled with butter and spun honey—my dad's specialty) and a glass of OJ or guava juice, all scarfed down in 30 seconds before rushing to school. It was carb-y and delicious, and I was hungry about an hour later 😉
In college, it was usually an omelette in our cafeteria. Cereal or yogurt were staples in my sorority house (except for Friday brunch), and then I became an oatmeal fanatic. Nothing fancy, just oats, almond milk, and some fruit. I used to drink coffee in the morning, but I've never been someone who needed it. So, I quit coffee last year.
Regardless of what I ate, I was always hungry soon after. But it's no surprise. Most of what I was eating was spiking my insulin levels (hello, refined carbs and sugar). I also wasn't eating enough fats to 1) keep my hunger at bay 2) stabilize my blood sugar levels and 3) support my hormones.
Fast forward a few years, and research / experimentation has given me a new perspective. My morning eats are usually low in sugar, high in protein and fat, and decently high in carbs. While I will still eat oatmeal, I make sure to add a scoop of protein powder, a tablespoon or so of both chia seeds and flaxseeds, as well as a hefty spoonful of almond butter. I find that adding healthy fats + fiber aids in digestion and keeps me feeling fuller, longer.
My latest breakfast rut involves protein pancakes. If I were more organized, I'd make a large batch of these on Sundays and reheat them during the week. I'm still trying to make food prepping a priority. So far, my actions don't totally align with my intentions, ha. That being said, I usually find a few minutes to make these in the morning before work. They have coconut flour (low on the glycemic index), protein powder, chia + flaxseeds, one whole egg, and some almond milk. They're pretty versatile, though. For a vegan version, remove the egg and make sure your protein powder is obviously vegan. They're naturally gluten free.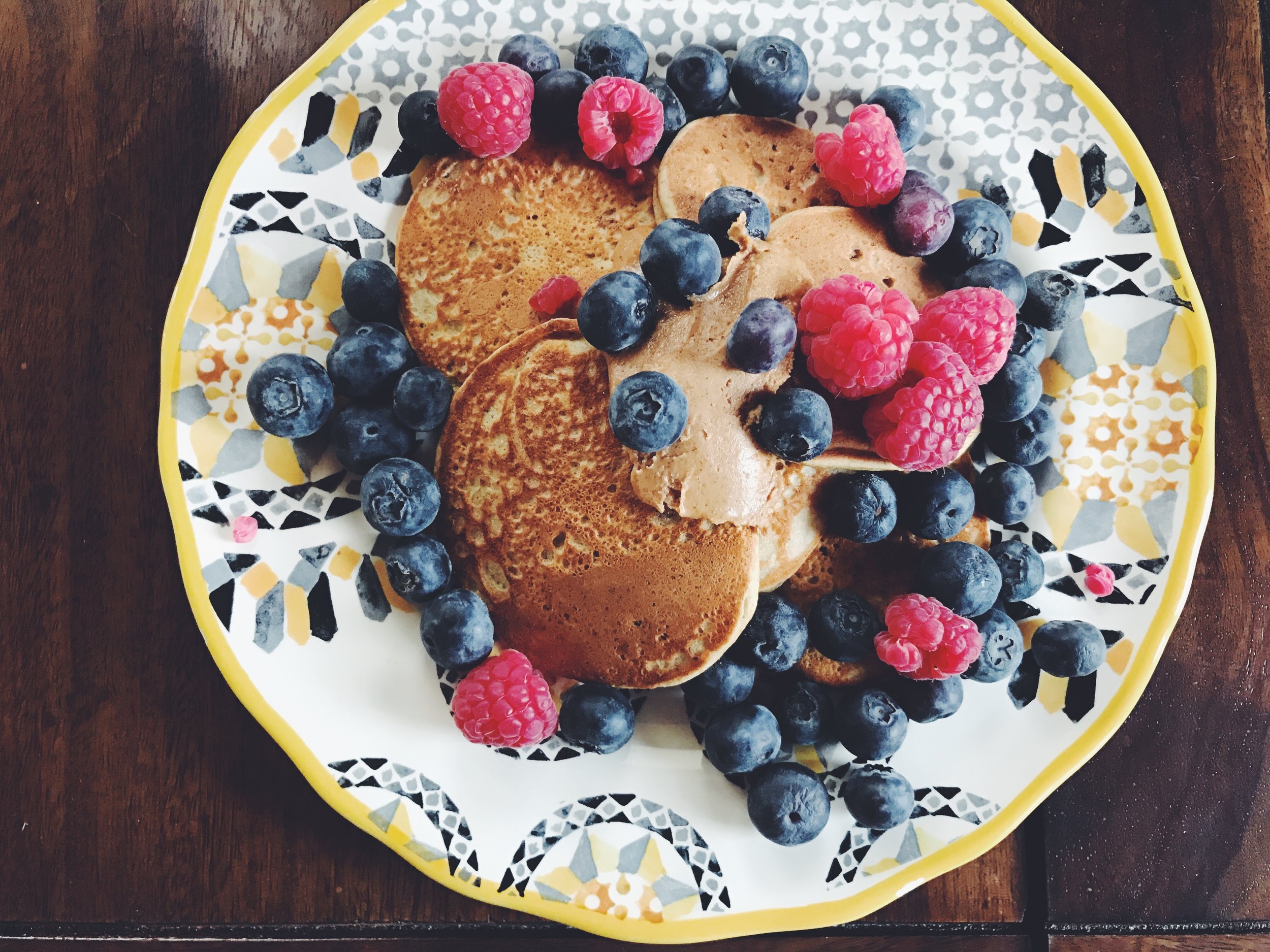 Print
Grain-free Protein Pancakes
Ingredients
3

tbsp

coconut flour

1

tbsp

chia seeds

1

tbsp

ground flaxseed

1

scoop

of your favorite protein powder*

1/2

cup

almond milk

 (upwards of 3/4 cup if necessary)

1

egg

(I love Vital Farms)

1/2

tsp

baking powder

1-2

tsp

coconut oil or ghee
Instructions
Add your coconut oil / ghee to a pan on low-medium heat.

Mix together the dry ingredients, then add in your egg and almond milk. Stir until you have a paste-like consistency. Let this sit for a few minutes. Feel free to add more almond milk (you don't want your batter too thick!).

Turn up the heat to medium-high and add your batter to the pan. If your pan is big enough, you can make one large pancake. If not, wait until the batter starts to bubble, then flip. These cook pretty fast (approx. 2 minutes on each side). Remove your first pancake from the pan, add a bit more coconut oil, and repeat.

Et voila! I like to add almond butter + berries. Or, a banana +  coconut yogurt + pumpkin seeds. Feel free to add a little maple syrup or honey (especially if your protein powder isn't sweet).

*For these pancakes, I like Sun Warrior the best.
Notes
If you make any of my recipes, please tag me (@wellnesswithedie) or use #wellnesswithedie on Instagram! That way, I can easily see your creations. For more recipes visit the wellnesswithedie.com.