In this article
I don't take my titles lightly. These are, quite truly, the best coconut cookies.
For a long time, food was simply food, and I viewed it as so. I wasn't meticulous about what I was eating nor when I was eating. I ate when I was hungry and stopped when I was full. I ate broccoli and I loved sweets. I ate intuitively, at a time when I didn't know what eating intuitively meant. It was all so simple, so effortless, so mindless. Thankfully, my parents never categorized food as "good" or "bad." We ate together, practically every night, and no one really picked or prodded at what someone else at the table was eating. To keep up with our dynamic schedules, after-school activities, and growing bodies, my parents nourished our family as best they knew how. And for the most part, we ate homemade, well-balanced meals. But, we also ate pizza, Chinese food takeout, and baked Toll House cookies. There was room for a little bit of everything. For each slice of birthday cake, there was always a vegetable or two close by. C'est la vie.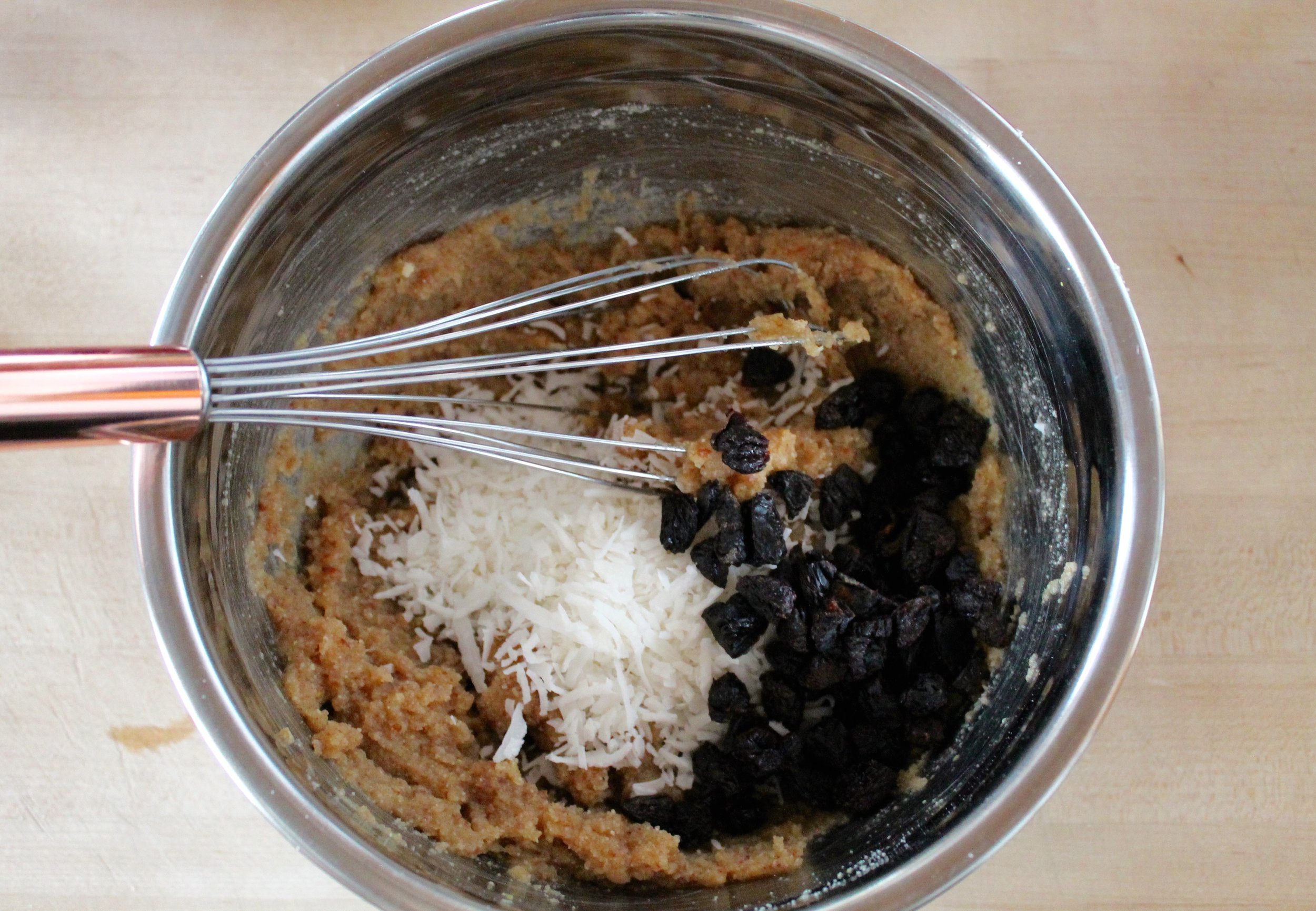 Somewhere along the line, my food preferences changed. I inevitably learned things about food I didn't know before. I figured out how to identify a carb from a fat from a protein. How or why that happened, I'm not entirely sure. But suddenly, I started caring about those things. And, thanks to photoshopped women in magazines and God knows what else in the media that was polluting my brain, I quickly believed that certain foods were totally off limits. It was toxic, really.
Right around this time, I also went through a breakup. The kind of breakup that leaves you feeling equally confused, depleted, and well, really sad. The kind that most people experience at least once in their lifetime. It had me questioning my self-worth, my self-esteem, and of course, my physical appearance. To add to this, I was about to embark on a five-month study abroad stint in Spain. While there were so many wonderful, life-changing experiences I had in Europe, I was also homesick and still broken hearted.
While abroad, my emotions ebbed and flowed. Some days I felt genuinely happy and other days I masked my sadness by sweeping it under the rug. I never lost sight of the gratitude I felt for living and studying in another country, though. But collectively, I was confused. I felt like I couldn't speak my truth. I was fragile, but I didn't want people to know. When I returned from Spain, life began moving at the speed of light. I became president of my sorority while taking a full load of classes, working part-time, and trying to balance my social life. I was very, very busy, and I was also very, very stressed. I felt out of touch with my body. I had a routine, and I stuck to it. I was eating extremely clean. I was exercising almost every day. Food became very black and white; I was regimented and set in my ways, and that was that.
To be honest, I was so tired. Not just physically, but mentally as well. I wanted out of the structured lifestyle I had created for myself, but I didn't know how. Thankfully, with the help of my closest friends and family, I said sayonara to my overexercising, clean-eating ways to make room for the life I was so desperately craving. It didn't happen overnight, of course. It was hard. It was taxing. I had to work at it every day. Since then, months and years have passed. I finally found the light at the end of the tunnel, and I am the woman I am today because of that time period in my life. Nowadays, I eat intuitively. I exercise intuitively. I nap. I rest. I don't overthink or over overanalyze my food choices. Sure, I care about what I put into my body because feeling satisfied and nourished are important to me, but my food choices don't determine the trajectory of my everyday life. If you've gone through something similar and want to chat, I'm a shoulder to lean on. Send me an email, wellnesswithedie@gmail.com.
Now, for these cookies. They are made with grain-free flours, maple syrup, and coconut oil. While they are not low-sugar nor low-fat, they do have antioxidants, phytochemicals, and fiber, a few things you won't find in Toll House cookies. They also happen to be free of dairy. They're coconut-y, pillow-y, and deliciously irresistible. They are a simple reminder that there is always room for dessert, every damn day.
Print
The Best Vegan Coconut Cookies (dairy and gluten-free)
Ingredients
1 1/2

cup

almond flour

1/2

cup

coconut flour

3/4

cup

melted coconut oil

3/4

cup

maple syrup

1/2

cup

shredded, unsweetened coconut

1/2

cup

chopped, unsweetened + unsulfured dark cherries

2

tbsp

ground flaxseed + 5 tbsp warm water

1

tsp

vanilla extract

1

tsp

cinnamon

pinch of sea salt
Instructions
Preheat your oven to 350 degrees Fahrenheit. Grab a baking sheet and line it with a piece of parchment paper.

Add your ground flaxseed + warm water into a small bowl and mix it together (this is also known as a flax "egg").

In a large bowl, mix together your dry ingredients. Add in your maple syrup, coconut oil, and flax egg. Don't over mix.

Fold in your shredded coconut and dried cherries. Let the batter sit for 10 minutes. If you're impatient, water your plants, reply to two emails, or start to clean up your kitchen.

Scoop out the dough and roll it into balls. The dough will not spread, so you can place them fairly close to each other.

Bake for 10-12 minutes. Let cool. They'll look undercooked, but that's fine (because there's no dairy in them).

We kept these on the kitchen counter, but you can also store them in your fridge (they'll harden a bit from the coconut oil). Adapted from Cookie and Kate's gluten-free chocolate chip cookies.
Notes
If you make any of my recipes, please tag me (@wellnesswithedie) or use #wellnesswithedie on Instagram! That way, I can easily see your creations. For more recipes visit the wellnesswithedie.com.