Recently bought a fiddle leaf fig plant? Today, I'm sharing tips and tricks for growing healthy, beautiful fiddle leaf figs. These fiddle leaf fig growing tips are easy, practical, and work for most home environments.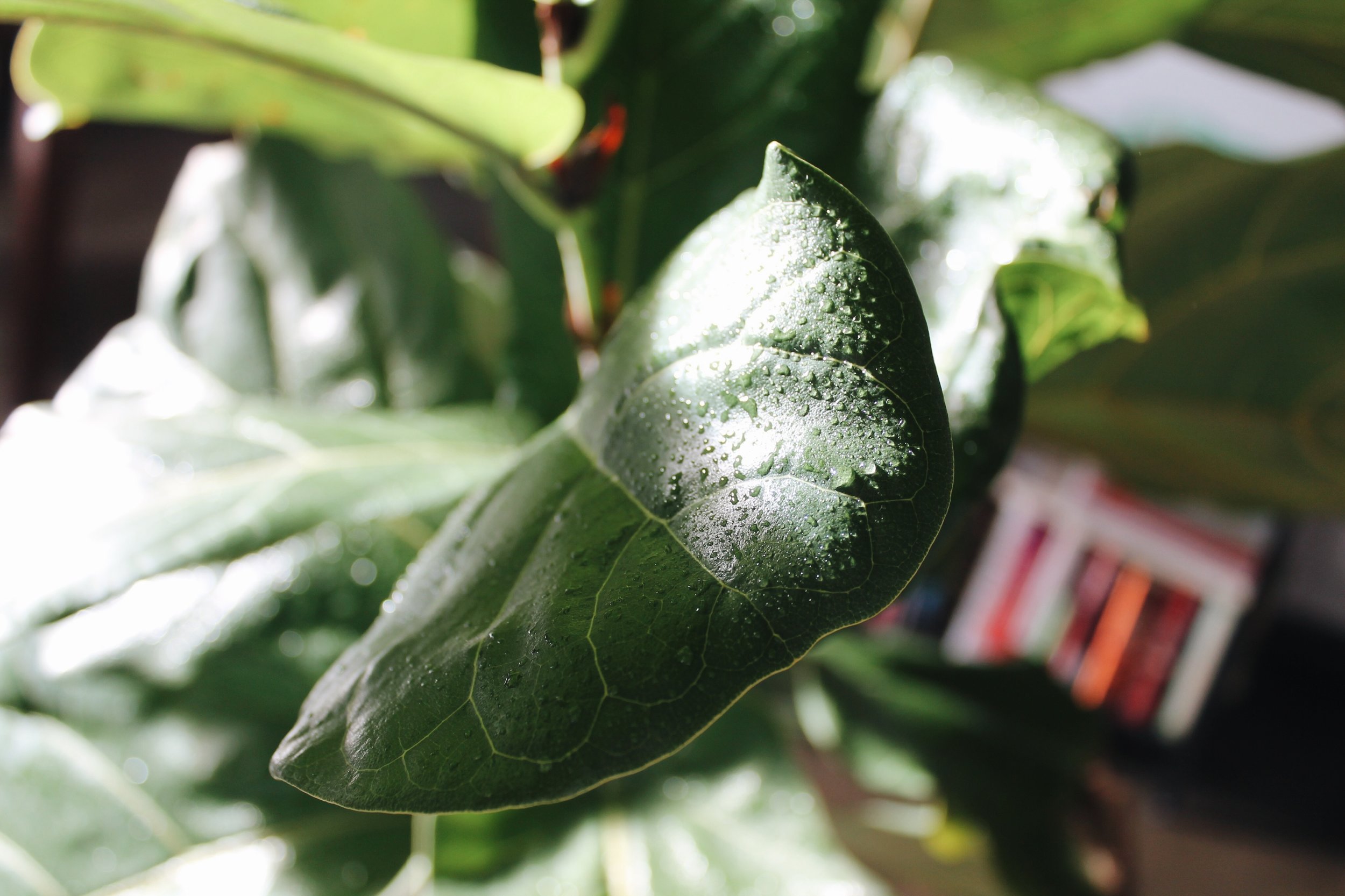 Gardening: A Tender Sunday Ritual
Growing up, I would watch my dad water our modest backyard. It was a Sunday thing. He'd turn on some music and whistle to himself while he watered. It was (and still is) his happy place. I'd follow him around, our golden retriever somewhere close by. I'd pick some lemons or prod at our Japanese maple tree. On occasion, my dad would reserve that time to catch up with his mom. He'd use our clunky home phone to call my sweet grandmother. They'd talk. He'd water. It was a tender Sunday ritual that will always remind me of my dad.
Fast forward 30 years, and he still loves to water. Taking care of his backyard brings him equal parts joy and pride. Gardening is a therapeutic reprieve. Although decades have passed since those early days, two things remain the same: He still turns on his music, and he still reserves that time to call someone in the family. If I'm lucky enough, it's me.
cultivating a green thumb
In essence, my minuscule green thumb came from my dad. I love having plants and herbs in our home, and they are extremely beneficial from both a mental and environmental standpoint. In addition to our fiddle leaf, my husband and I also have a bird-of-paradise, a cactus, a succulent, and we typically have a bouquet of flowers in our kitchen.
Fiddle Leaf Fig growing Tips
Ever since we bought our fiddle leaf fig, we've been doing our best to grow a healthy, thriving plant. Below are our best fiddle leaf fig growing tips.
1. Water it once a week. Don't overwater.
2. Add nutrients to the soil. We use this every three months (less frequently from Oct.-Mar.).
3. When we first potted it, we used this. We'll re-pot it with this mixture in a few months (once we've had it for a full year). Using a mixture like this helps you from over-water or under-watering your fiddle leaf.
4. Our fiddle leaf lives by my desk, in a norther corner of our apartment. It's an area that gets a mixture of direct, but mostly indirect, sunlight. You'll want your fiddle leaf in an area that gets bright, indirect sunlight.
5. Speaking of sunlight, we do give our fiddle leaf about an hour of direct sunlight every Saturday or Sunday. We place it a yard from one of our closed windows and simply let the sunshine drench the leaves. If you can, give your fiddle leaf some direct sunshine 1-4x per month.
6. Dust your leaves every few weeks. You'll be surprised by how much dust accumulates on them! The dust weighs the leaves down, interfering with the light. Remember that the light is crucial for pants because it's their main source of food (hello, photosynthesis).
I hope these tips help. If you've got any plant-keeping tips that you can't live without, let me know!