Weekend recap #3….coming to you on a Wednesday (because my time management skills are anything but impressive right now). As some of you know, I left my full-time job last week. This probably deserves a post all its own. But the gist is that it was a long time coming. I'm so immersed in the world of wellness, integrative health coaching, and helping my family's business, that it was time for me to take the leap. That said, I'm not someone who thrives without a schedule. So, this adjustment time has been difficult for me. I've felt waves of emotions, as one might expect. I've had moments of stress-induced anxiety, prolonged periods of excitement, and drawn-out afternoons unsure of what I should work on next.
All of that said, I continue to reassure myself that I am moving in the direction of my dreams. Some days, I'm inching in the right direction. Other days, I feel more stagnant. It's all a process. Anyway, I spent most of Monday and Tuesday getting caught up from the weekend, working on freelance pieces, and shooting recipes for a caffeine-free week challenge I'm co-hosting right now. So, this post got put on the back burner. Without further adieu, here's a quick look at our weekend.
Friday night, my husband went out with a few guy friends, so I had a cozy night in. It was much needed. I had leftover pesto pasta for dinner and a couple of Simple Mills pumpkin muffins. I watched TV, answered a few emails, and then called it a night.
Saturday morning started with a blueberry tahini smoothie bowl. I basically just threw everything into my blender, including Sun Warrior vanilla protein powder, chia seeds, ground flax, frozen blueberries, frozen cauliflower, a few chunks of frozen banana, tahini, and almond milk. For the topping, I used this nut / seed mix from goodMix (it's very nutrient-dense—I love it!). Afterward, I headed out for a 20-minute HIIT workout. Unbeknownst to me, it left me sore for DAYS. As in, I'm still feeling its effects. I suppose that's what happens when you switch up your typical yoga + walking routine 😉
I threw together a quick lunch (sandwich + carrots + crackers + hummus) once I got home, and then hopped on a long coaching call to wrap up my IIN credentials. I had one of these bars as a snack. They're my latest protein bar obsession. My husband had been out for most of the day with a friend, but once he got home, we walked to downtown Denver (about a 25-30 minute walk) and had Mexican food. I hadn't been to La Loma, and I loved it. I had carnitas tacos and he had chimichangas and soup. We watched a movie once we got home and fell asleep early.
Come Sunday, I was so sore from the workout I did the day before. Like, so sore. Since I was craving something cold and hydrating for breakfast, I made another nutrient-dense smoothie bowl with this super food, and had a cup of tea with collagen on the side. Afterward, I hobbled to the grocery store, made us BL(A)Ts for lunch, and did some work on the couch. In the afternoon, I snacked on another Simple Mills muffin with peanut butter and a kombucha. Dinner was homemade soup and a Canyon Bakehouse bagel with cream cheese and an egg (unpictured). I made the soup and my husband made the breakfast sandwiches. It wasn't glamorous, but it did the trick. We like to keep Sunday night dinner pretty casual.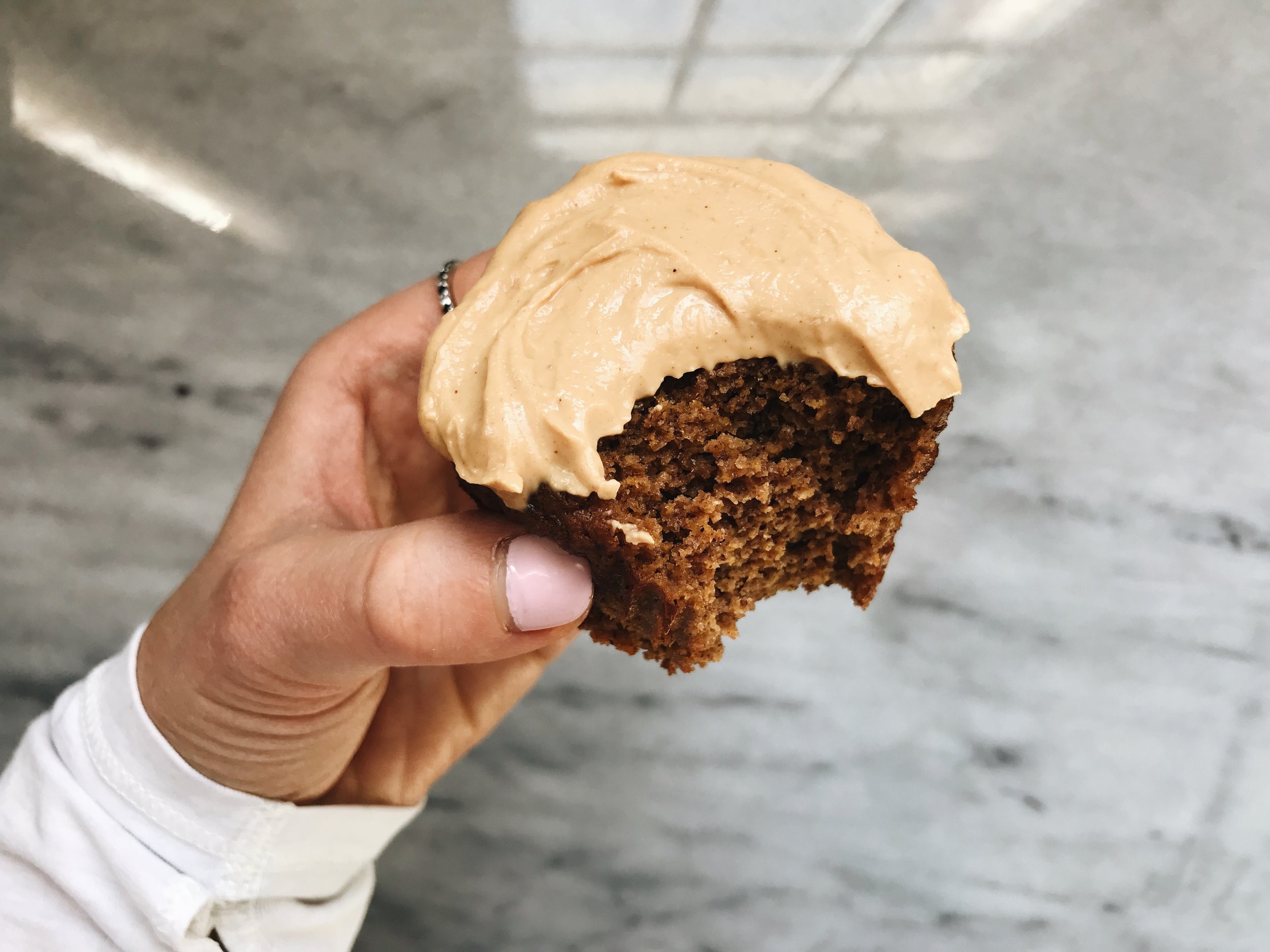 I hope you're all having a wonderful week thus far. I'm off on a trip with my sister tomorrow! Feel free to follow along on here 🙂