There's nothing quite as satisfying as a bowl of creamy butternut squash soup, right? Especially after a long, cold day. And for me, there's nothing quite as satisfying as walking into my cozy kitchen, knowing that regardless of the work day I've had, the kitchen is my happy place. As soon as I get chopping, cooking, and plating the night's dinner, my day's worries and apprehensions seem to fad away. At least temporarily.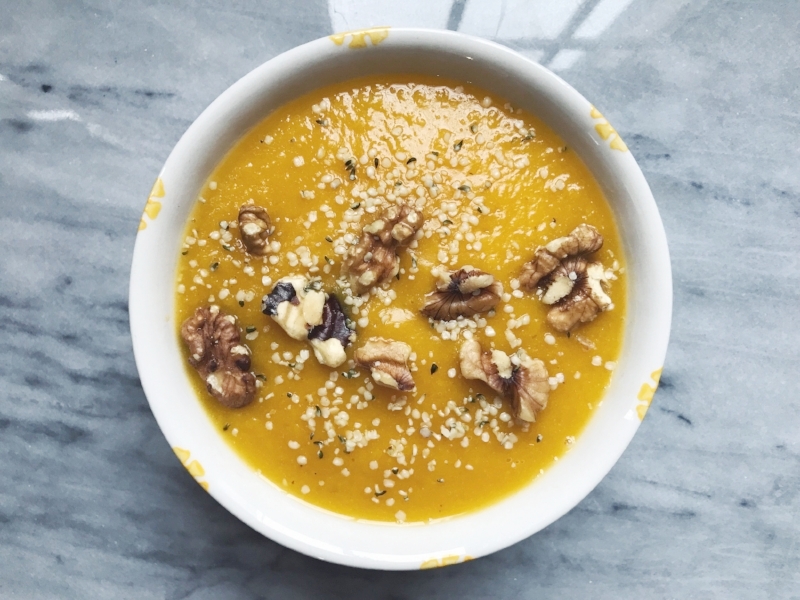 All too often, I let the weight of my work day carry over into my personal life. I bring stressors and frustrations home with me. It's a natural reaction, I guess. Because I know—all too well—that my husband will listen, offer his sage advice, and we'll go about our evening. But, more often than not, it still leaves me in a state of slight dissatisfaction. Yes, expressing my feelings makes me feel better. Inevitably, though, those same stressors and frustrations seem to surface a few days later. It's like I'm on this spinning hamster wheel without an emergency break. You too? If so, know that you're not alone.
I mean, it's no wonder that wellness advocates and health gurus preach the importance of finding a job that makes you happy, challenged, and satisfied. Which, brings me to my next point. It's been a long time coming, but big changes are on the horizon for me! I'll chat more about this life update in a future blog post. But for now, I'll leave you with this. If you feel like you're in a rut (personally, professionally, emotionally, etc.), the only way you're going to feel differently is if you actually change something. Yes, change. That thing we like to talk about but hardly have the courage to pursue. However, I'm here to tell you that change doesn't have to be overly dramatic. In fact, it doesn't have to be dramatic at all. You don't have to upheave where you live, who you're dating, or where you're working to be happy (although under some circumstances, that might be necessary). Sometimes, all you need to do is change one minor thing. One thing. That's it.
For example, maybe you want to change how much water you drink. If so, invest in a water bottle you love. Take it with you wherever you go. You'll drink more water. I promise. Another (possibly more significant) example: Maybe you want to change the relationship you have with food. If so, you can change that. I've been there. Done that. What I've found to be most helpful is to find a support system (or at least one person who's waving his/her pom-poms for you). Have that person be your champion and your cheerleader. Have that person eat with you. Together, nosh on something that you've deemed as a "fear" food. In the moment, tell yourself that what you're eating tastes damn good. Give yourself a proverbial high-five. That's it. Eat the food and move on. Remember that food doesn't dictate your life. Food is simply a vehicle for the life YOU'RE dictating. Make sense? Also, remember that positive reinforcement is key in gaining confidence and body acceptance.
Anyway, it's as simple as changing one thing in your life that can lead to unprecedented positive outcomes. Doing one thing differently can be the catalyst to new perspectives. So, to bring this full circle, I knew I needed a change the other afternoon. I needed to feel re-energized after work. So, I hustled home from my office, turned on some music, and got chopping. I felt immensely more relaxed as soon as I started pulling out ingredients in my fridge. For me, a simple change in environment does wonders to my mental state. I'm sure you feel the same way.
So, this soup. It's simple (per the recipe's title), nourishing, and creamy—without sacrificing too much time or a million ingredients. Plus, it makes a great lunch the next day. Oh, and it's vegan and gluten-free. You'll find the recipe below! But in the meantime, think about ONE thing you can realistically change in your life. And how much better you'll feel when you do. And, if you need help, I've got your back. I'm well-versed in what it means to take that leap of faith. Feel free to email me. Or, tell me one thing you're excited to change in the comments below 🙂
Ingredients:
1 medium-sized butternut squash (approx. 6-7 cups)
1/2 a large yellow onion
2 large stalks of organic celery
3 cups vegetable broth
2 tbsp nutritional yeast
1 tbsp coconut oil
1 tbsp maple syrup
Few pinches of sea salt + cracked pepper
Instructions:
1. Carefully peel the skin and chop your butternut squash into small chunks (be sure to remove all seeds). I used a julienne peeler and a sharp knife. Chop your celery into half moon shapes. Remove the outer layer from your onion and chop it into thin slices.
2. In a large pot over medium heat, add your coconut oil, then add your squash, celery, and onion. Sauté the veggies for 10 minutes (or until the onion is translucent). Stir frequently.
3. Pour your veggie broth and maple syrup into the pot. Let the soup simmer for 15-20 minutes (or until you can stick a fork through the butternut squash).
4. Carefully transfer everything into a blender. Add your nutritional yeast and s+p. Blend until you reach a creamy, soup-like texture. For a thinner, more broth-based texture, add more veggie broth. Taste-test. Feel free to add more maple syrup, sea salt, etc.
5. Pour into a bowl and top with toasted walnuts, raw pumpkin seeds, or your garnish of choice! This soup will last for up to one week in the fridge. Re-heat and enjoy.
If you make any of my recipes, please tag me (@wellnesswithedie) or use #wellnesswithedie on Instagram! That way, I can easily see your creations 🙂