For those of you looking to incorporate more veggies into your daily eats, this pasta is for you. It's light yet satiating and chock-full of fiber, protein, vitamins, and minerals. And, most of the ingredients are from a box or can. That's right. Convenience and budget-friendly staples are key. While I do emphasize eating fresh veggies, sometimes that isn't always feasible. So, having a stocked pantry is where it's at. Plus, it ensures a quick and easy Monday night dinner 🙂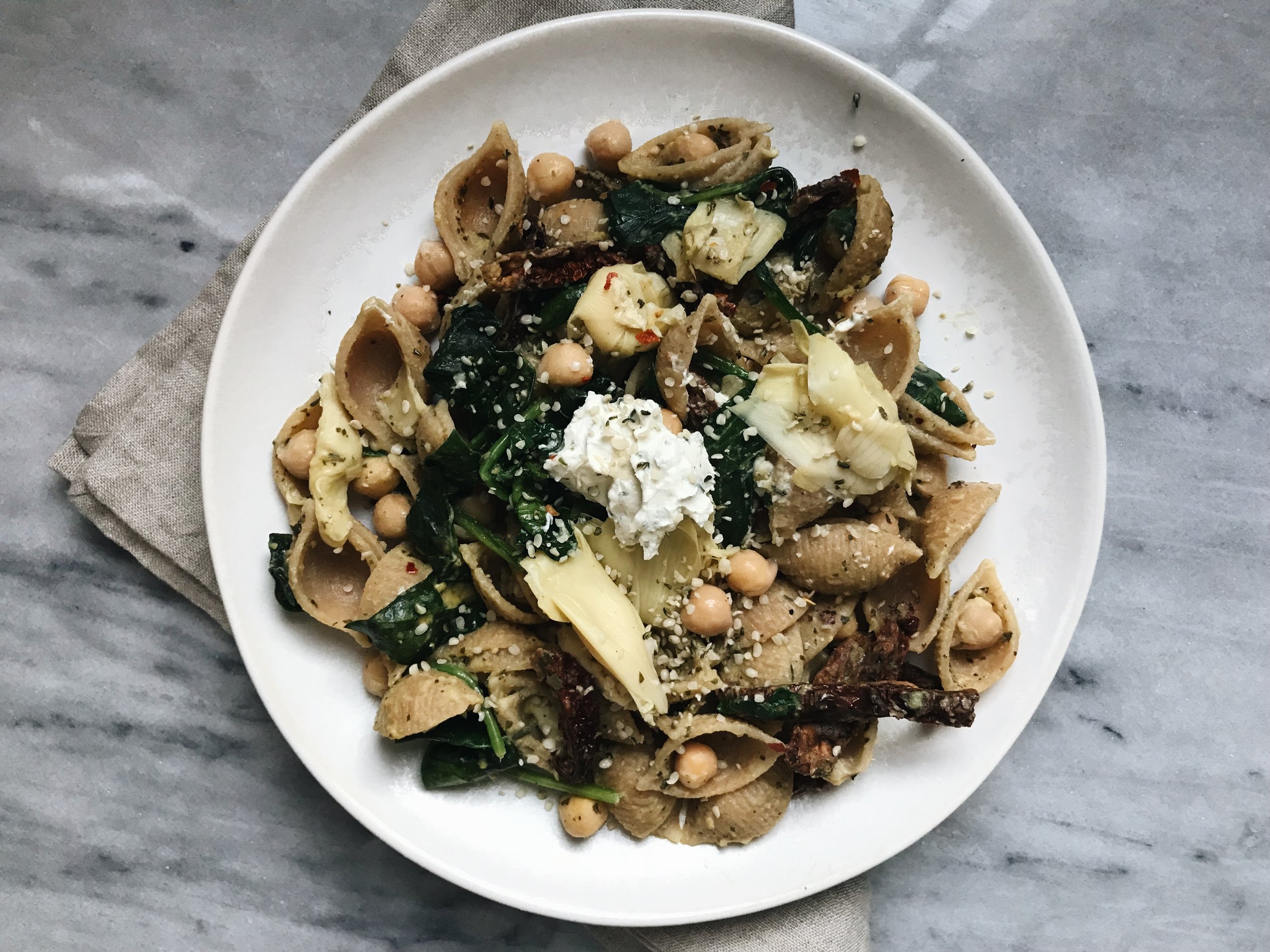 When it comes to canned goods, I like to keep our cupboards stocked with organic, low-sodium garbanzo beans, black beans, artichoke hearts, sun-dried tomatoes, lentils, green chiles, and soups. Oh, and I look for brands that use BPA-free lining. If you didn't know, BPA helps extend the shelf life of canned foods. But, its compounds are up for debate. So, I try and steer away from cans (and plastics) with BPA. Anyway, I also typically have things like quinoa, whole wheat and gluten-free pasta, veggie and bone broths, oats, and a few different types of flour on hand. When it comes to cooking and baking, there are plenty of cheap yet quick-cooking and nutritious ancient grains, legumes, etc. available.
So, this pasta. It came together in 20 minutes. Thanks to the pre-packaged pesto I had in my fridge and a few pantry items, dinner was ready in no time. While I love spending time in the kitchen, I don't always have the patience nor the energy to whip up something complicated. I'm usually pretty hungry by the time I get home from work, and I'd rather cook a hearty dinner instead of mindlessly snack. If you're new to cooking, don't fret. It's rather easy to create a comforting meal that tastes delicious, requires simple ingredients, and takes up less than 20 minutes of your time. Like, this pasta.
Whether you're a college student, a working professional, or a parent with little ones, this is a versatile, effortless pasta dish. If you don't like pesto, swap it for a jar of marinara sauce. Not a fan of spinach? Use kale. If you don't like sun-dried tomatoes, swap them for fresh bell peppers or zucchini. Get creative. Feel free to add whatever fresh (or canned) veggies you have on hand. Also, while I topped this pasta with hemp hearts and chive cream cheese, you can omit both. But, the hemp hearts are a great source of protein and Kite Hill's dairy-free cream cheese is…absolutely divine. Lastly, if you're allergic to gluten or opt for a grain-free lifestyle, just use a gluten-free pasta substitute. Bon appétit!
Print
Whole Wheat Artichoke Pesto Pasta
Ingredients
5

cups

whole wheat pasta shells (I used Whole Foods)

1

8oz

container of Hope Foods Kale Pesto Hummus

1

15oz

can of artichoke hearts

1

15oz

can of organic, low sodium garbanzo beans

1/2

cup

organic sun-dried tomatoes

2

large handfuls of fresh, organic spinach

sea salt + red chili flakes to taste
Instructions
Cook your pasta according to the package's instructions. Use a large pot.

While the pasta drains in a colander, add a few handfuls of fresh spinach leaves to the bottom of your pasta pot.

Add the pasta back into the pan and mix until the spinach begins to wilt.

Toss in your container of pesto, washed + drained garbanzo beans, washed + drained + chopped artichoke hearts, and chopped sun-dried tomatoes.

Add a few pinches of sea salt and a sprinkle of chili flakes (if you like a bit of spice) then plate! I topped the pasta with a dollop of Kite Hill's dairy-free cream cheese and some hemp seeds. Feel free to forego any toppings, though, as it's delicious as is.
Notes
If you make any of my recipes, please tag me (@wellnesswithedie) or use #wellnesswithedie on Instagram! That way, I can easily see your creations. For more recipes visit the wellnesswithedie.com.