If you ask me if I love living in Colorado, I will tell you, yes. It's been almost ten years and this place has changed the trajectory of my life. We've had our up and downs, of course, but that's the nature of any relationship. I've found my closest friends, a stable job, the love of my life, and a perpetual growth that keeps me in a constant state of change. But it's always been the abundance of outdoor activities that draws me in, that lures me back to yes, this is why I love living in Colorado. While the ocean isn't close by, the Rocky Mountains are home to just about everything else. From quaint towns to epic skiing, to daytime hikes and rustic camping spots, there is something for everyone here.
That said, although the proximity to all of these things is quite close, I sometimes lose sight of what's right in front of me. I forget that I'm only a short car ride away from quiet, forested space. As humans, we tend to do this. We forget that everything we need, and everything we will ever need, is right within our reach. We forget that abundance and vitality are always all around us. Truthfully though, I get so caught up in my day-to-day life that I forget how much this state has to offer. I neglect the mountains because, in a rather vain way, I know the mountains will alway be there. I know there's always next weekend or next month to do the things I keep telling myself I want to do.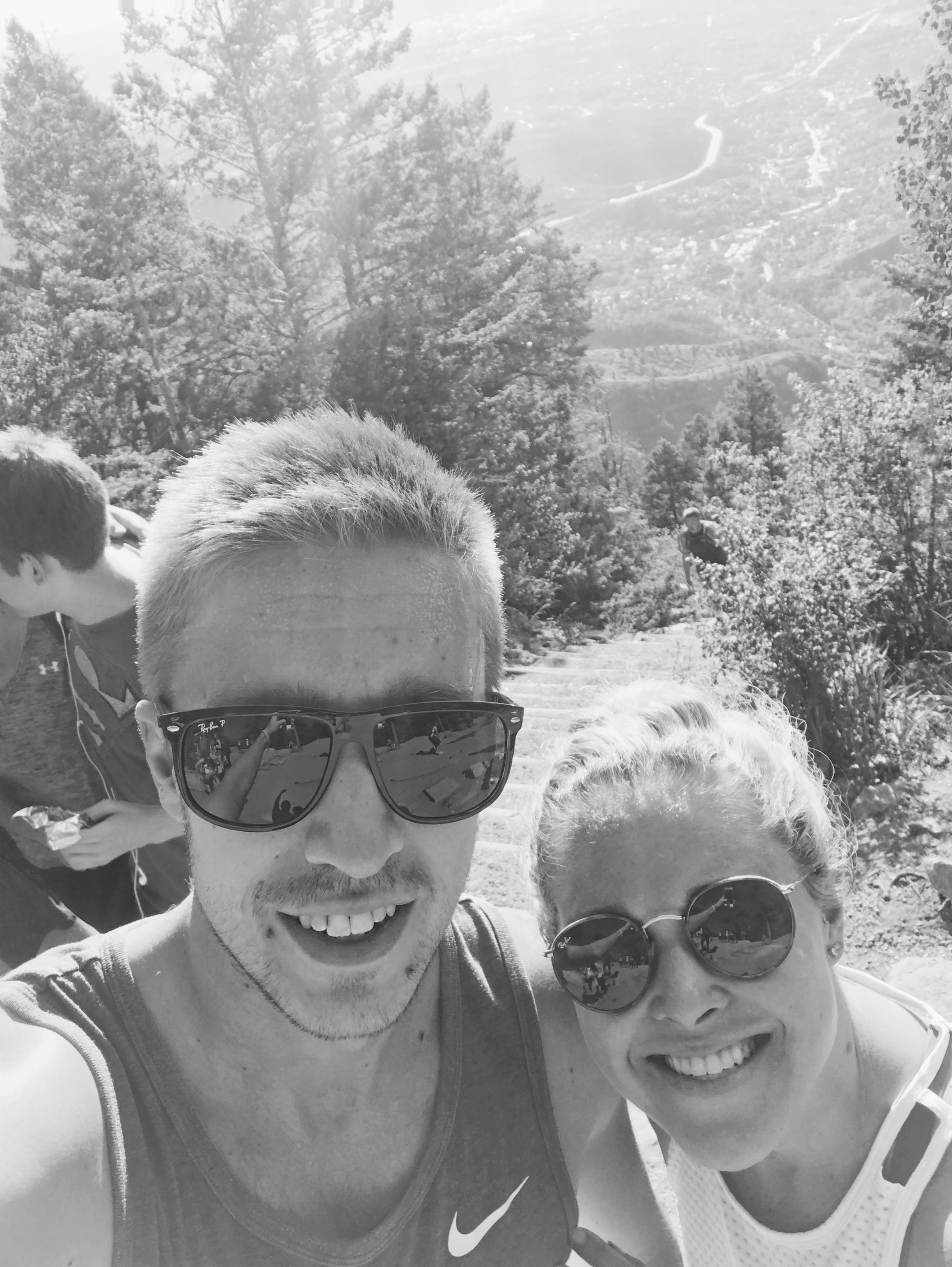 But there's no time like the present, and I'm reminding myself of that every day. I've been consciously tweaking my perspective to live from a glass-half-full mentality. A—"grass is greener where you water it"—motto. So cheers to whatever adventures lie ahead in Colorado and remembering that abundance is right outside my back door.
This past weekend, we woke as the sun was rising and drove down to Colorado Springs to hike the Manitou Incline. If you're not familiar with it, it's the remains of the Manitou Mountain cog railway. The hike is not for the faint of heart, but it's absolutely doable (so long as you have good knees).
The drive from Denver to the Springs is about an hour and 15 minutes, and I recommend leaving early in the morning to a) beat traffic and b) beat the heat. I packed overnight oats with chia seeds and berries, and I ate my breakfast about an hour before we hiked. I need some fuel in my tank, but eating too much before exercising doesn't serve me well. When we arrived, we parked on Manitou Avenue, but they also have a shuttle that takes hikers closer to the start. There's a small convenience store near the base with bathrooms and water, but that doesn't open until 8 a.m. or so (it wasn't open when we started at 7). Otherwise, there's a railroad station across the street from the starting point with bathrooms in case the convenience store is closed.
We brought a water bottle with us, but keep in mind that you're gaining an altitude of 2k feet in less than one mile, so any extra luggage will feel quite heavy. Definitely wear comfortable exercise clothes and plenty of sunscreen; the steps are essentially in direct sunlight. And regarding the steps, they vary in distance and incline, but they do get progressively more difficult. Pace yourself and take breaks when needed! It took us about 45 minutes to ascend, but we weren't trying to break any records and we did stop a few times. Once you get to the top, you'll feel immensely accomplished but also question the sanity of those who run up and down it 😉
To get back down, you can take the steps, but it's not recommended. There's a trail that loops you back down (it's a few miles long), and we walked + jogged it. Once we got back to the car, we stretched for a bit, then drove to Ola Juice Bar in the Springs. They're an all-vegan, mostly gluten-free juice bar with amazing smoothies, acai bowls, breakfast items, and healthy lunch options. We had an acai bowl and a green smoothie and both were delicious and filling. On our drive home, I kept thinking about how much I love living here and how little we've truly explored.