If you've been following my blog, you'll know that I love my food processor. And to be honest, I'm not sure how I survived without it. Mine is from Cuisinart, and it is pure magic. No, this isn't a sponsored post—I just genuinely love the thing. I've made everything from dessert to dips to soups to energy bites. In all reality though, I've only scratched (pulsed?) the surface in terms of its versatility. So today, I'm bringing you yet another food processor concoction: pesto.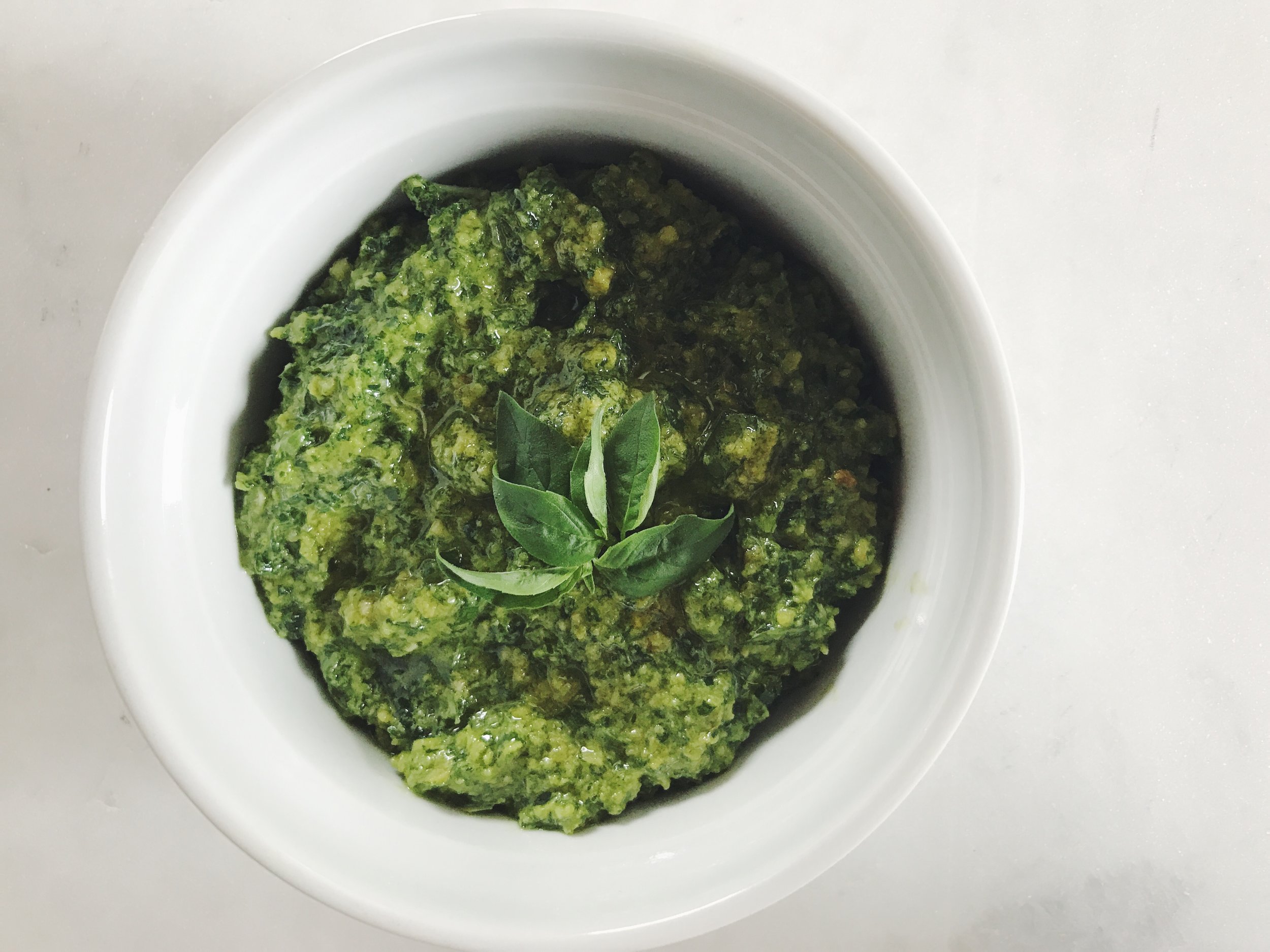 First and foremost, fresh basil is my absolute favorite herb. I can't get enough. Secondly, pesto, like hummus, is another one of those staples that can be re-purposed in a variety of different ways. It's a delicious sandwich spread, a filling veggie topping, a creative marinade, a simple yet flavorful pasta sauce, and an accompaniment to any cooked whole grain. It stores nicely in the fridge for a few weeks, too!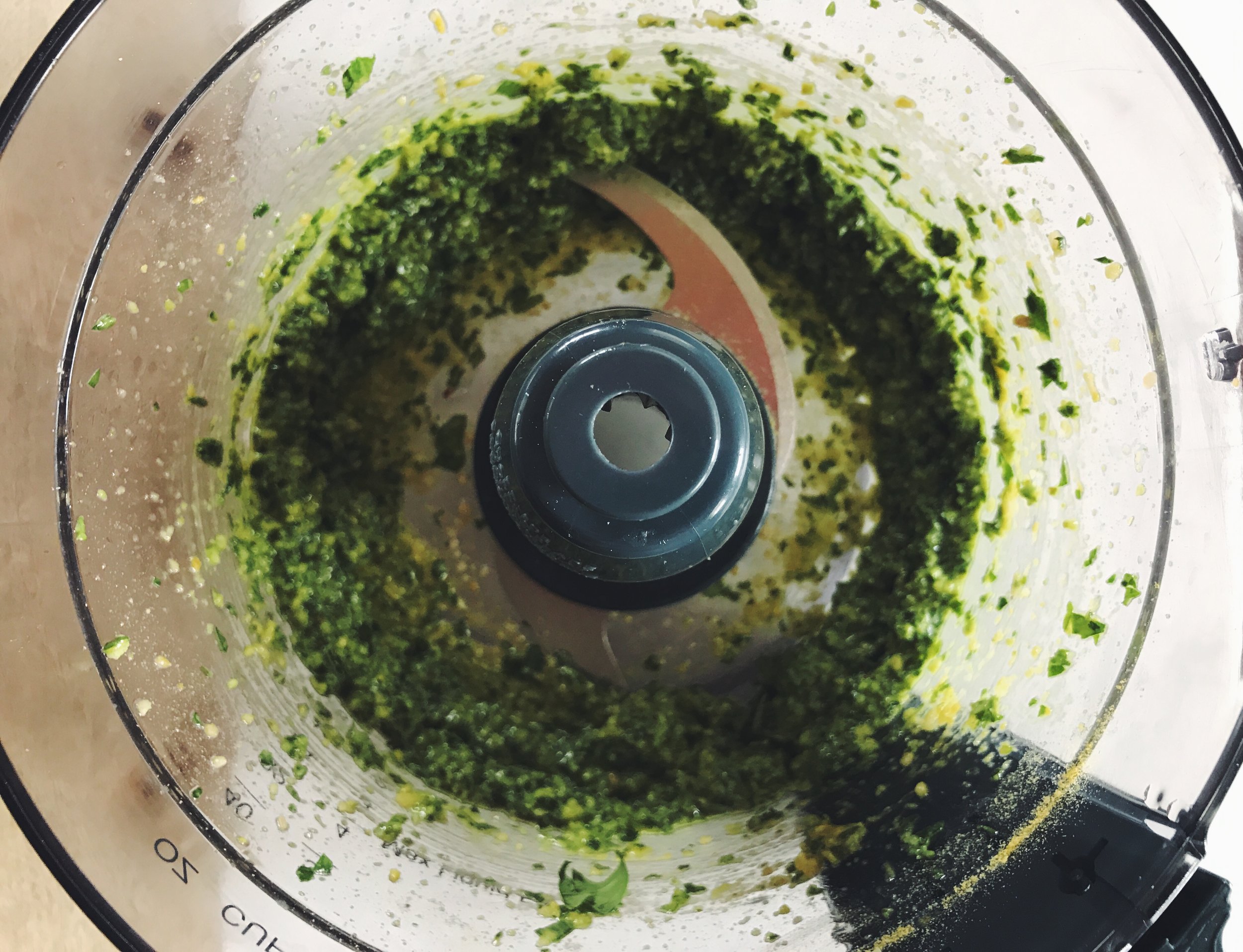 And while store-bought pesto is convenient, making it at home takes less than 10 minutes. Plus, you can customize it to fit a) your palate b) the ingredients you have on hand and c) your food  / lifestyle preferences. As you know, traditional pesto calls for pine nuts, and while I used pine nuts, they're not cheap. Next time, I'm going to use another type of nut or seed. You can easily swap pine nuts for walnuts, almonds, Brazil nuts, or cashews. Sunflower seeds and pumpkin seeds work well, too. If you're going to use another type of nut or seed, feel free to soak them in water for a few hours for easy blending (and improved digestion).
Lastly, while you can certainly use fresh parmesan cheese, I used nutrition yeast instead. Nutritional—what? Nutritional yeast. It has a bizarre name, but it's really just a seasoning packed with B-complex vitamins, minerals, protein, and fiber. Best of all, it emulates a cheesy flavor and can be mixed into dishes or sprinkled on top of your meals. It's loved by vegetarians and vegans (…but even my meat-eating husband is a fan of it).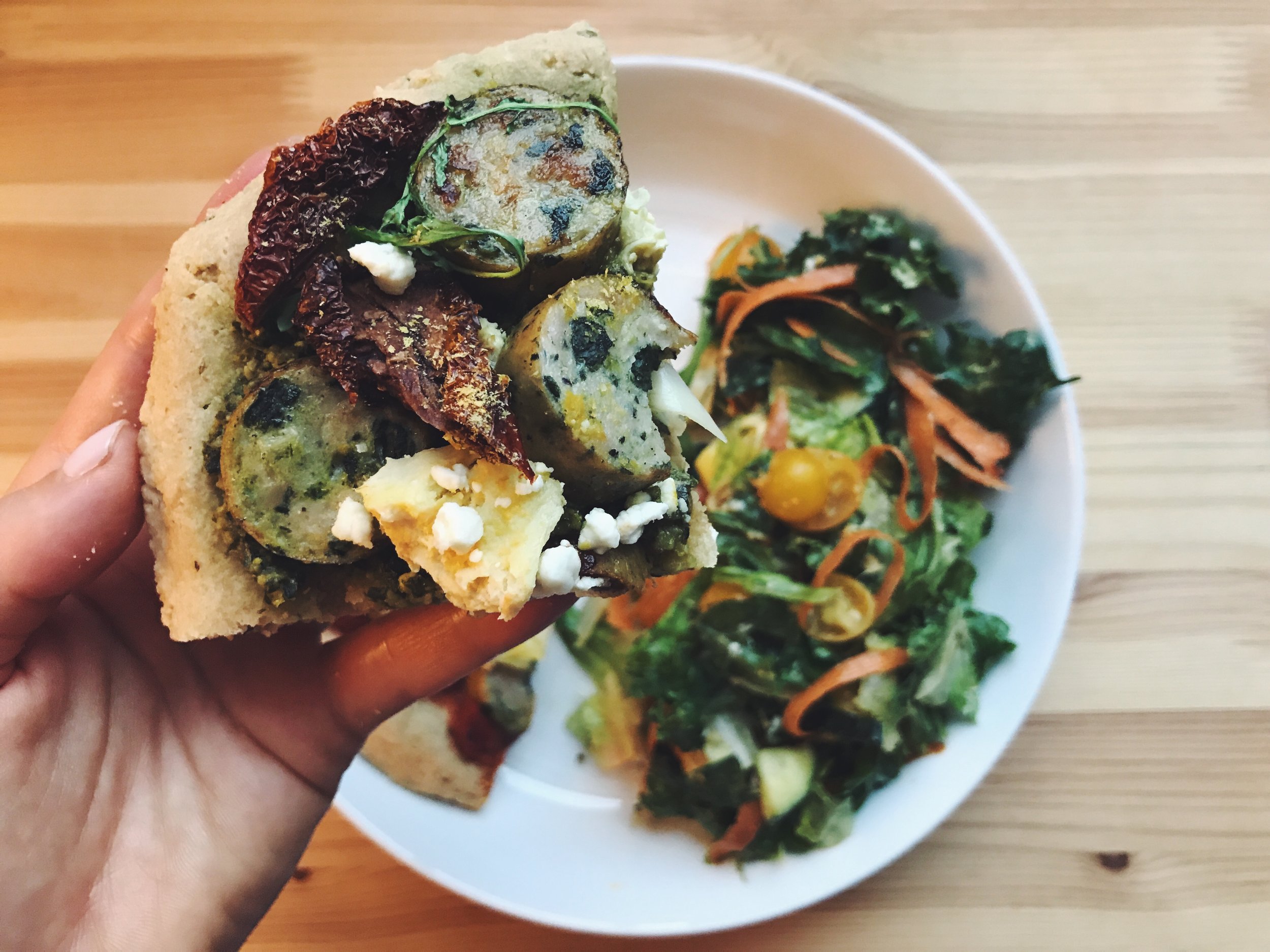 Anyway, while I wanted to try my hand at a dairy-free pesto, I wanted to preserve the natural cheesy flavor that a traditional one evokes. So, I added a heaping tablespoon of nutritional yeast to the mix and hoped for the best. Et voilà, I was pleasantly surprised by how "cheesy" the pesto tasted.
We added the pesto to roasted sweet potatoes the first night and then pizza from Simple Mills the second. I had leftovers today for lunch, and I swear it's even more delicious a few days later. Letting the flavors meld together does wonders. Let me know if you make it by tagging @wellnesswithedie or using #wellnesswithedie on social. Happy eating, friends!
Print
Vegan Pesto
Ingredients
2

cups

fresh basil

packed

1/4

cup

pine nuts

1

tsp

minced garlic

(from a jar) or 1 clove garlic

3

tbsp

extra-virgin olive oil

1

heaping tbsp

nutritional yeast

1/2

lemon juiced

a few pinches of sea salt
Instructions
Throw everything into your food processor except your olive oil and sea salt. Pulse until equally combined (you may need to scrape down the sides a few times).

With your food processor on low, pour in your olive oil. If this isn't possible with your food processor, turn it off, then add in your olive oil. Pulse until smooth.

Add a few pinches of sea salt to your mixture and pulse. Taste and add more salt until satisfied.

Scoop it out and add it to your pasta, sandwich, potato, etc. Otherwise, store it in a sealed container in the fridge for up to two weeks.
Notes
If you make any of my recipes, please tag me (@wellnesswithedie) or use #wellnesswithedie on Instagram! That way, I can easily see your creations. For more recipes visit the wellnesswithedie.com.